The mood of his collection was a more somber one. As the designer put it himself a few days before his show, "The feeling is ominous, as if something is coming." Shoji, who was born and raised in Japan, drew inspiration from another corner of the Far East, specifically the Golden Age of Shanghai.
REBECCA MINKOFF
Her collection is for the downtown girl with an affinity for the perfect statement piece


For autumn, she went with a darker, retro rocker girl inspired palette, heavy on moody black,
gleaming digital patterned silks and strategically-placed sheer black chiffon and lacey panels
Azria turned out an equestrian-themed collection of his famous bandage dresses
wrapped up in leather harnesses – some with sleeves attached, made of fur or python skin, complete with a gladiatorial torso wrap.
Christian Siriano


With winged dresses and swirls of piping to evoke veins, the fourth-season winner of "Project Runway" paid homage to the creatures of the night and
said he was inspired by old horror films.
DEREK LAM
Lam worked a fashion-forward look.
At the core were chic, minimalist separates
all of which were boosted by exceptional details and fabrics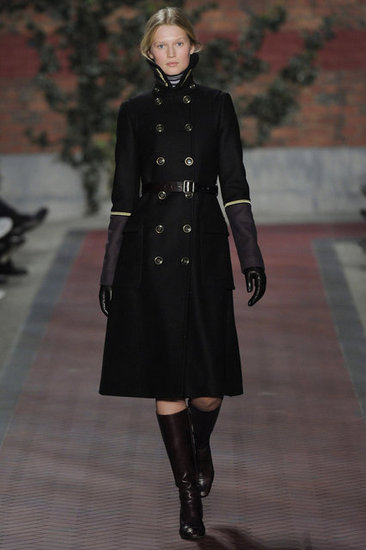 Tommy Hilfiger
Tommy Hilfiger sent out a smart collection of Military and equestrian-tinged separates for Fall 2012.
Menswear fabrics were re-imagined to great effect on dresses, trousers, coats, and riding helmets.
ZAC POSEN
Zac Posen delivered a breathtaking assortment of dresses, gowns, and eveningwear for Fall 2012. Posen's signature silhouettes were cut in decadent fabrics — silks, satins, and jacquards — and came in a rich palette ranging from deep jewel tones to buttery pastels. Origami folds, chinoiserie embroidery, and kimono draping added intrigue.
OUR FAVE!
TRACY REESE
There was bold green, gold, violet and a tomato orange which lit up her runway in a mix for just about every occasion in pants, dresses, skirts, sweaters and coats long and short.
images and extra reporting from vogue, fashionista, fashionologie, assosciated press